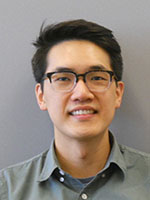 Assistant Professor of Sociology
Biographical Information
is an Assistant Professor of Sociology and Women's & Ethnic Studies at the University of Colorado Colorado Springs. Suh completed his Ph.D. in Sociology at the University of Minnesota – Twin Cities in 2016. His scholarly interests lie at the intersection of race, ethnicity, gender, migration, and culture, especially in relation to Asian Americans and the Korean diaspora. Suh has researched the phenomenon of ethnic return migration through the experiences of U.S.-raised Korean American "returnees". His current research examines the culinary entrepreneurship of 1.5 and 2nd-generation Korean Americans in the U.S. and South Korea. He has works published in outlets such as the Ethnic & Racial Studies, Journal of Asian American Studies, Men & Masculinities, the International Review for the Sociology of Sport, and The Society Pages. He is co-editor of a forthcoming volume from Lexington Press titled Koreatowns: Exploring the Economics, Politics, and Identities of Korean Spatial Formations.
Education
Ph.D., University of Minnesota, Sociology
M.A., University of Minnesota, Sociology
B.A., University of California – San Diego, Ethnic Studies and Psychology
Courses Taught
Introduction to Race and Ethnicity (SOC 2200)
Asian American Communities (SOC/WEST 3280)
Gender and Sexuality (SOC/WEST 4040)
Globalization and Development (SOC/WEST 4380, SOC 5380)
Global Migration (SOC/WEST 4780, SOC 5780)
Selected Publications
Suh, Stephen Cho. 2019. "Racing 'Return': The Diasporic Return of U.S.-Raised Korean Americans in Racial and Ethnic Perspective."Ethnic and Racial Studies.
Montez de Oca, Jeffrey, and Stephen Cho Suh. 2019. "Ethics of Patriotism: NFL Players' Protests Against Police Violence."International Review for the Sociology of Sport.
Suh, Stephen Cho, Kyle Green, and Alex Manning. 2018. "Much ado about a hairdo? Unraveling the Social Significance of Jeremy Lin's Dreadlocks." The Society Pages.https://thesocietypages.org/specials/much-ado-about-a-hairdo-unraveling-the-social-significance-of-jeremy-lins-dreadlocks/
Suh, Stephen Cho. 2017. "Negotiating Masculinity across Borders: A transnational examination of Korean American masculinities." Men and Masculinities.
Suh, Stephen Cho. 2016. "Introducing K-Town: Consumption, Authenticity, and Citizenship in Koreatown's popular reimagining." Journal of Asian American Studies.